Improve collaboration, build strong teams and resolve conflict effectively


Would you like to turn your own team into a High Performance Team??


Do you need to understand how to get people working together?


Do you want a training session that will change how you look at the potential of your team?


Would you like a training session that has lots of useful tips and ideas delivered in an interesting and highly memorable way?


Would you like a training course delivered by the captain of one of the most successful teams in UK Sports?


Building High Performance Teams – With Paul Sculthorpe MBE
This course is designed for leaders of teams and their team members to enable them to develop effective and successful teams.
A high performance team can outperform a much larger group of individuals through collaboration, mutual support and a focus on a shared vision or objective. This highly interactive course will give the participants a framework that allows them to bring the culture and behaviours needed to create a high performance team into their workplace.
The course combines the latest in team performance theory as well as our experience of creating top quality corporate training events with some memorable insights into how an exceptional sporting team, the St Helens Rugby League team, was able to repeatedly achieve success over more than a decade.
Leading the course will be Paul Sculthorpe, MBE, former captain of Great Britain and St Helens and now a successful public and motivational speaker. During his time at St Helens Paul won 11 major trophies including becoming the World Club Champions twice as well as winning the prestigious BBC sports personality team of the year award
Learn the theory and skills that helped make St Helens Rugby League such a successful team and how you can apply the same techniques to your own teams.
Course outline
· Introductions
· Course delivery strategy
· Discussion: participant expectations and experiences
Creating the High Performance Team
· Getting the right people in the 'boat'
· Dealing with diverse characters
· The different roles within a team
· The 4 stages of team development (Forming, Storming, Norming and Performing)
· Characteristics of high-performance teams
The High Performance Team Framework
· Create a vision and goals to inspire the team
· Build a high performance culture
· Setting the rules of engagement
· The importance of conflict in a High Performance Team
· Communication strategies
· Decision making, authority and accountability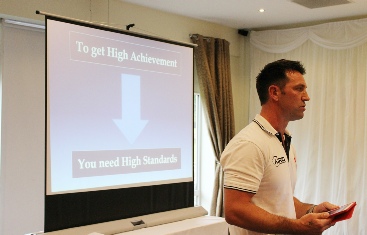 · Building a legacy of success. Create a High Performance team that can last.
· Leadership tips
Resilience training courses for up to 16 delegates:
From just £2,000 for a 1 day course for 15 delegates.
It is possible to add additional delegates but we like to keep the class sizes fairly small to enhance the learning experience.
Please fill in the contact form below for more information or call us on 07730 361926